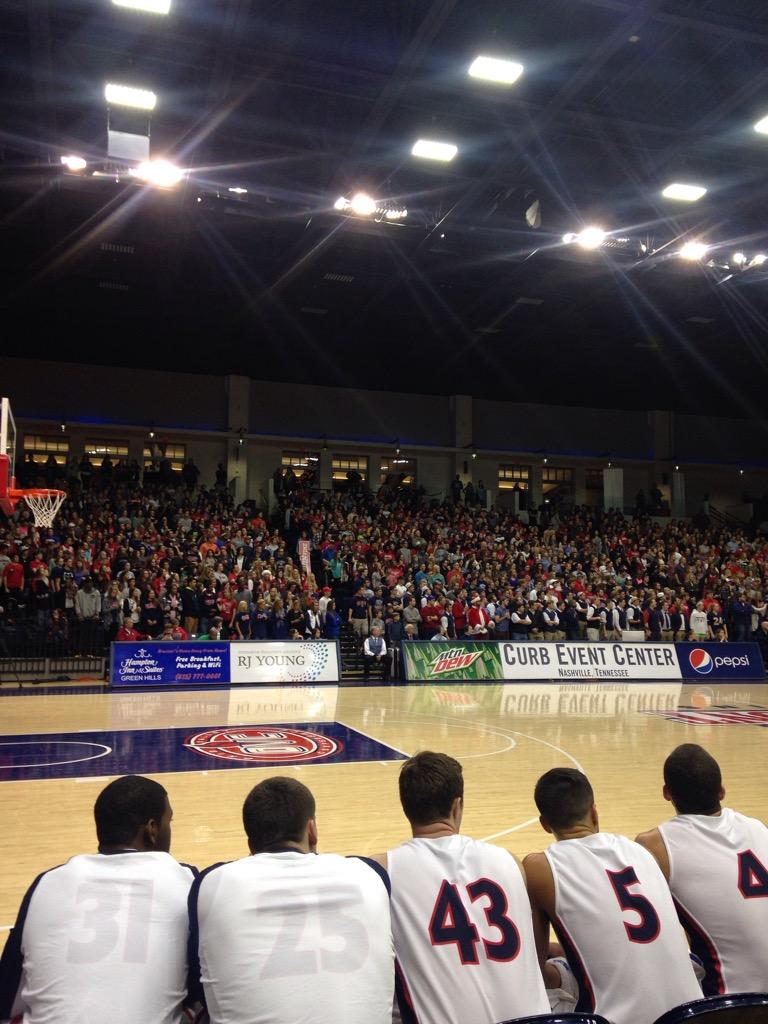 We are off and running in another Belmont Bruins campaign! As we all know, these non-conference/exhibition games show us things that we may never see again. Last year in the season opener at Lipscomb the Bruins had to gut out a sloppy win. They were adjusting to new defensive rules and no Ian or Kerron. It took time to readjust and all that season produced was an OVC Championship game appearance and an NIT Elite Eight.

The 2014-2015 season opener at Wright State was no different. (Except we lost, I get it). With 21 turnovers and several defensive lapses this season opener felt eerily similar to last year. Poor shooting and only five assists had everyone wondering what was wrong with this version of Belmont. Were they still an elite shooting team? Where was the ball movement? The answer to the questions was simple. It was the opener. It was on the road. And despite the poor play, the Bruins had the ball at the end with a chance to win the game.
Next came the Byrd Cage's favorite game of the year: The Battle of the Boulevard. We were all stretching for storylines to keep this game relevant. Chad Lang suits up against his former team! Rick Byrd faces his protégé! It's the 135th-ish matchup between schools! If you are like me, these storylines did not get you fired up and for good reason. This matchup out of conference is not fun. It's just not. I don't care how 'beneficial' it is for the schools. Please make it stop. The game however, did show us a thing or two:
Taylor Barnette and 3 Balls: This kid can flat out shoot the basketball and while we got a glimpse in the opener, he exploded at Allen Arena. Make sure you get to the Curb as soon as possible to watch him play. I know it's only three games and looking at numbers this point in the season is often fruitless but he is 15-22 from deep!! That is 68% for those of you counting at home. That is some kind of hot streak. And it's not just Taylor who has been shooting well. After only making three 3s in the opener the Bruins have poured in 31 3s in the last two games. I think this team can still shoot.
Turnovers: The turnover rate for this team is incredibly high at the moment (28% of the team's possessions!). Now this number historically has gone down for the Bruins (most teams for that matter) once they reach conference play and I expect that again. One thing that must be cleaned up are the turnovers in the second half with the lead. Rick was losing his mind in the second half of the Lipscomb game simply because we were not finishing out the game. That includes using the shot clock, taking smart shots, and NOT TURNING THE BALL OVER. This is a great time of year to be in situation where you can work on closing out a game. Rick is on it.
Defensive rotation: Craig Bradshaw gets a ton of attention for his defensive play. He is an active player who is constantly in passing lanes and disrupting opposing offenses. It is really fun to watch and can generate quick and easy offense. Obviously a plus for any team. However, that type of defense is not without consequences. When he misses a deflection or doesn't get the steal it puts a massive amount of pressure on the back end of the defense. The rotation or scramble after a gamble has been poor. This defensive unit is still learning how to find shooters and recover after dribble penetration or a missed assignment. Lipscomb nor Trevecca could not take advantage but most teams can and will take advantage of sloppy defensive rotation.
Overall, the first three games of the season have been exciting. It is always fun to watch a new team learn how to play together, to understand thought processes, and to win together. That will be put to test tomorrow as they travel to Bowling Green to take on the Hilltoppers. Keeping in mind that non-conference games are simply a preseason to the much more important conference schedule, the Bruins and their fans should focus on the process. Let's not overreact and let's get ready for the OVC.
Be sure to tune in to Kevin and Sage on Saturday for what promises to be an excellent game.
-@nickbroadhead
Gambler's Corner: The season opener against Wright State started out as a pick 'em. As the day progressed, Belmont became a slight favorite on the road. If you were to hypothetically take Wright State at any point in the day you were getting great value. While Belmont looked like the more experienced team on paper, they had little on court experience. In the end, Vegas was right. This was a toss-up. There were no lines for the Lipscomb or Trevecca games presumably viewed as exhibitions by Vegas due to the level of competition.
Belmont ATS: 0-1